Take the Reading War Games Summer 2019 Challenge!
Connect with other students & teachers (yes teachers can play too) over the summer to compete for prizes!
Canvas Course link: https://hallco.instructure.com/enroll/LRD7EC  
Follow us on Twitter @fbhsmediacenter on Instagram @FBHS_Reading_Wars
FBHS Reading Wars Summer of 2019
Reading Wars is a new summer reading competition debuting at FBHS this summer! Branch students have the opportunity to compete with each other reading books of their choice for prizes! Every participant is invited to a brunch at the beginning of the 2019-2020 school year where the prizes will be awarded!
Reading Wars is being run through a Canvas Course & books promoted through social media. The Canvas Course link is: https://hallco.instructure.com/enroll/LRD7EC  
Also see postings @FBHS_Reading_Wars on Instagram and @fbhsmediacenter on Twitter.
Participants can share & have input on the books they've read by self enrolling on the Canvas Course link above.
The participant with the most submissions will be rewarded Champion of the FBHS Summer Reading War Games Challenge!
All students will be entered for prize drawings with each submission they enter on the database located in the Canvas Course.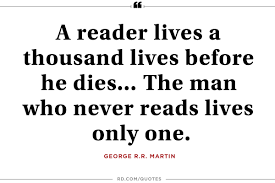 How many 'lives/books' will you journey through this summer?
We'll celebrate each others successes at a brunch in the Learning Commons the 2nd Friday in August!
Tessa Black (tessacblack@gmail.com), the president of FBHS Tome Society, and Coach Stowe (laurie.stowe@hallco.org) is running the social media accounts, so dm the @FBHS_Reading_Wars Instagram & @fbhsmediacenter & have your photos posted this summer!
Want More Reading Fun? Visit the Hall County Summer Reading website:
Hall County Summer Reading Information